Chrissi Island Boat Trip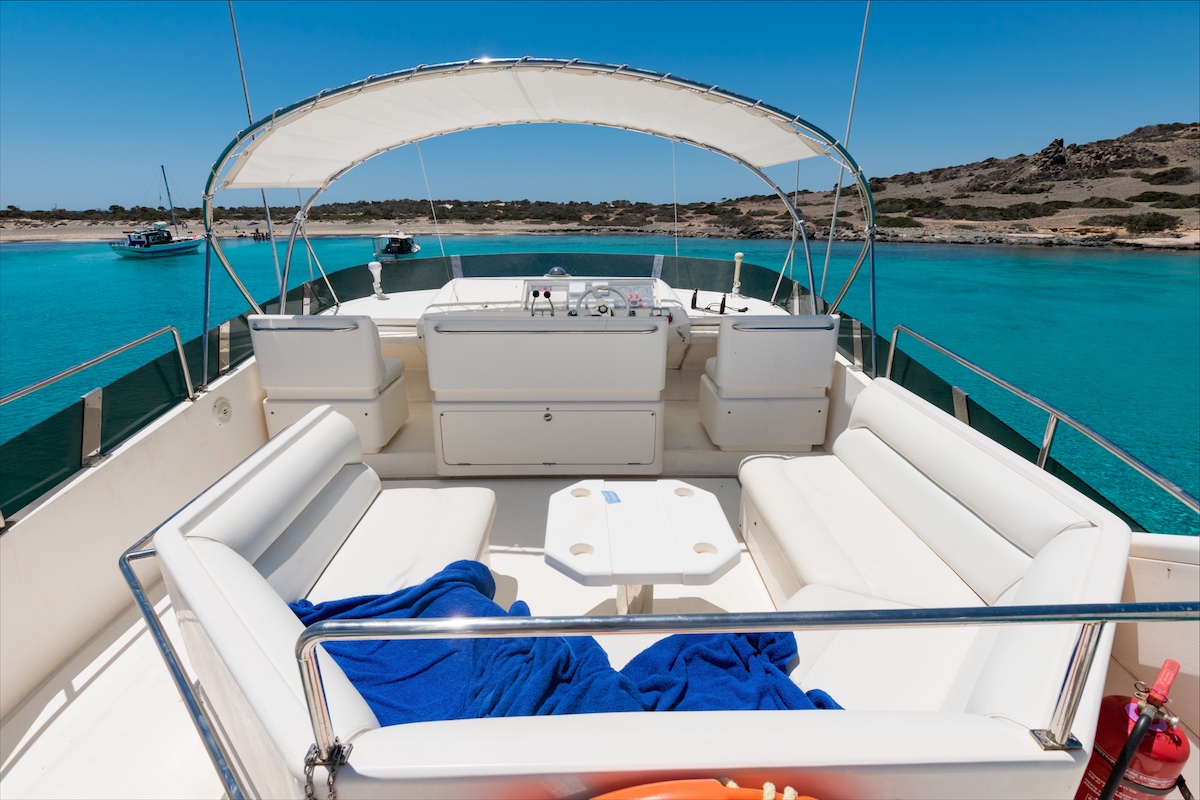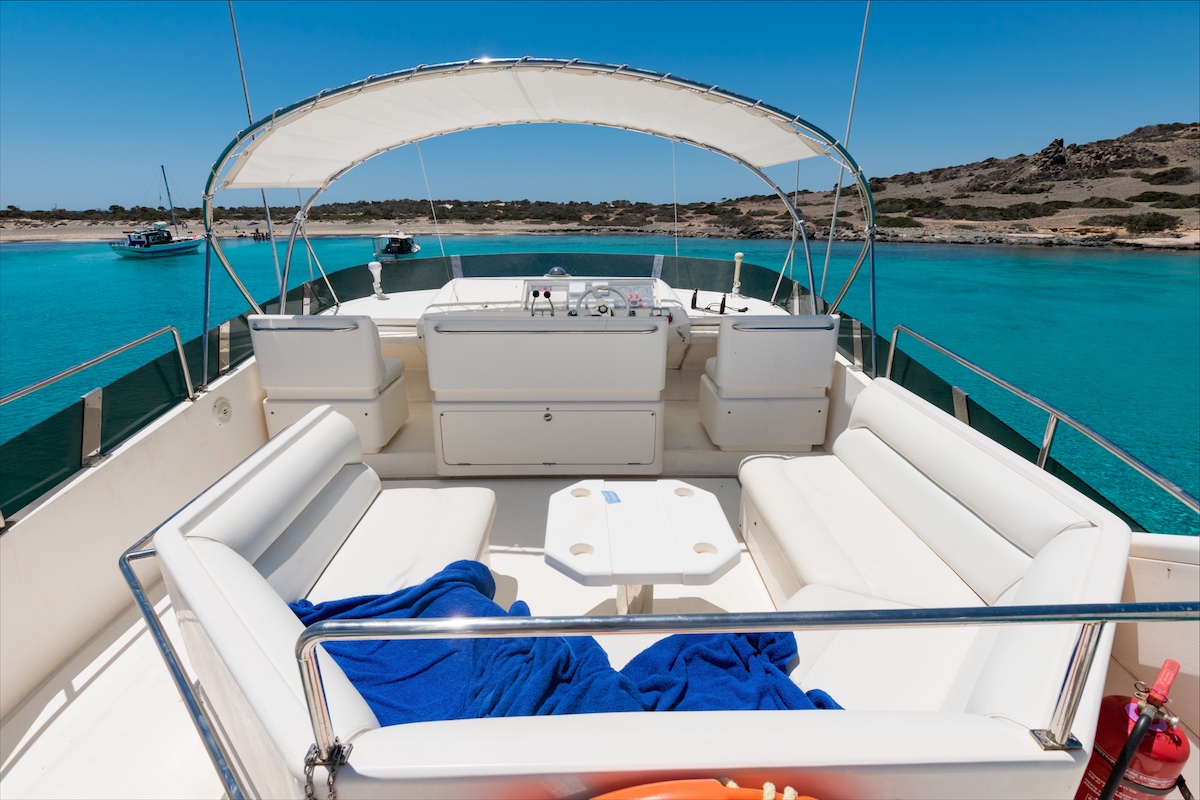 Chrissi Island Boat Trip
Hop on a beautiful yacht from Iearapetra port to the unique Chrissi Island known for its 'golden' beach, exotic crystal blue waters and forest of perennial cedar trees.
Visiting Places: Chrissi Island (or Gaidouronisi) from Ierapetra - East Crete
Duration: Full day [trip to Chrissi: 20 minutes approx.]
** TRIP AVAILABLE SUBJECT TO SUITABLE WEATHER CONDITIONS **
Customer Reviews
"Amazing boat, friendly staff. Great access to the boat and easy to get to. The trip to the island was amazing and such smooth sailing. So small and personal and so much better than those double story massive boats. I would definitely use this company again and would recommend them to everyone who visits Crete. Amazing, thank you." - JG, USA

"Chrissi trip was excellent !" - Jan F, Slovakia

"Magic experience" - Daniela, Italy
WHY WE LOVE IT
The best way to visit Chrissi Island for a memorable exotic beach adventure in Crete!
Activity Description
*** 20% prepayment required to secure your spot, the remaining balance payable cash to the captain on the activity date, after suitable weather conditions have been confirmed ***
One of the best things to do in Crete while visiting the East (Ierapetra, Elounda, Agios Nikolaos, Lassithi region) is to spend a day of tropical adventure in the unique Chrissi island. The island is located 9 nautical miles south of Ierapetra, about 1 hour via ferry. Its magnificent natural beauty and ecosystem have included it in the European initiative NATURA 2000 to protect the southernmost gem of the Mediterranean with its exotic waters, golden beaches and forest with perennial cedar trees covering about 1/4th of the island. While visiting Chrissi you will enjoy the path through the forest and the sand dunes that lead you from the dock to the beach, the golden sand, covering the entire island and it's unique fauna and flora. The northern shores (Belegrina, Hatzivolakas, Kataprosopo) are filled with sea shells; especially on the east side of the northern beach there are overwhelming amounts of sea shells covering the shore. Fossils, traces of a Minoan settlement that prospered from the trade of porphyra (a red pigment used for dying royal clothes), the chapel of Agios Nikolaos and the island's lighthouse are only a few of the things you can see on Chrissi island. In the waters around Chrysi, the variety and populations of marine species keep growing because the waters are very shallow. Most animal species on the island are spread across the Mediterranean and none of them is dangerous to humans. The loggerhead sea turtle Caretta-Caretta has been seen many times on the island, but no egg-laying has been reported there. Finally, there are more than 120 recorded bird species, most of them migratory, which stop on the island to rest before they continue their journey.
Strict national and European rules govern the island which prohibit pollution, hiking outside the designated paths and beaches, the collection of rocks, fossils, shells and ancient finds, the collection of plants and animal catching, free camping, smoking around the bushes and woodlands and starting a fire.
Now you can visit this incredible destination with a beautiful yacht departing from the port of Ierapetra. The ship anchors in the south side of Chrissi, at the only port of the island called 'Vouyiou Mati'. Only walking distance from the dock following a path through the cedar forest you will be able to reach the exotic beach named Belegrina or Chrissi Ammos -the famous Golden Beach- covered with thousands of shells and a setup with umbrellas where you can relax and enjoy a day of swimming in the island's exotic waters.
About the yacht: This is a luxurious Princess 65 with a 2000hp engine and speed up to 35 nautical miles/hour. With a length of 20 m and weight of 25500 kg, it can take you safely everywhere. Its specifically-designed spaces can accommodate up to 46 persons, offering a comfortable trip to everyone. The ship has 4 cabins that can accommodate up to 10 persons, sitting hall, WC and comfortable seats on the bridge so that you can enjoy your cruise from any spot you like!

On select dates, the trip is available as a cruise around the island, offering a rich BBQ, always made from fresh local products, including beverages on board. Contact us for more details.
The yacht is also available for private boat trips, upon request.
Special Features
Comfortable journey in a beautiful motor yacht away from the mass

Reach Chrissi island in a short journey of 20 minutes (approx.)

Private cruises & BBQ service upon request

Incredible destination

Easy booking
Activity Snapshot
Dates | Start Time: Daily (weather permitting) from May till mid-October | Departure 11 AM. Please be at departure point 30 minutes before departure.
Duration: Return by 5 PM to Ierapetra port. Journey: 20 mins (approx.)
Meeting Point: Ierapetra port [exact location to be advised after booking]
Included: Return boat trip from Ierapetra to Chrissi island, all taxes, dues and fees.
Excluded: Transfers to/from the meeting point and anything else not mentioned as Included, any food and drinks.
Note: Ticket pre-bookings require 20% online prepayment - cash settlement of the remaining amount on the cruise date. There is a free parking area at the port of Ierapetra. | What to bring with you: swimsuit, towel, sunscreen, hat, camera, comfortable shoes. It is advisable to carry before disembarkation: bottled water, any snacks, lunch, beverages and beach items | | The boat is fully licensed & insured for your safety.
Cancellation Policy
You are entitled to a refund of the prepaid amount only in case the boat trip is cancelled due to unsuitable weather conditions as per instructions of the port authority or as otherwise agreed by the vendor. Change of journey dates may be considered by the Vendor upon arrangement at no extra charge and only subject to availability; no shows are not entitled to refund.
Additional Info
Confirmation to be received as soon as possible (within 24 hours from booking)

You can present either a print out or an electronic booking confirmation for this activity

Complete information on Vendor, including local telephone numbers at your destination, will be sent with your Booking Confirmation. The TravelPorter hand-picks the most remarkable, experienced and reliable vetted professionals for a pleasant experience from booking to completion.
More authentic things to do in Crete this summer